Today is April 5th, 2020. It's day 34 of quarantine for me and my family. You see, we started early.
My first knowledge of the Novel Coronavirus was on Saturday January 26. I was in Woodland, Ca having a silly tea party with some of my besties, when my husband, Liem, texted me.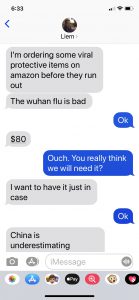 I probably wouldn't have thought much about this, except that Liem is way less cautious than I am, so for him to tell me he is spending money on masks, just in case, I knew this was potentially serious.  Upon arriving home, I learned that just a week earlier, the first case of Covid-19 (the disease that the novel Coronavirus causes) had landed right at my airport.  The man was returning from Wuhan, China where he'd been conducting business.  Despite quick moves, someone was missed, because in late February it was confirmed that there was community spread in my area and a nursing home less than 2 miles from my home was the epicenter.
A March 18 report from the Centers for Disease Control and Prevention found 129 cases of COVID-19 were associated with Life Care Center of Kirkland. This included at the time 81 residents, 34 staffers and 14 visitors.
We had my husband's cousins and their spouses over for the last weekend in February.  We had all reunited the previous summer at a funeral and decided it was time to start making more effort to get together.  That was the last time we hung out with friends in a normal fashion.  As an extrovert, I miss it terribly.  March 1, we began our voluntary quarantine.
I've been intending to start this post since things started getting serious, but I've found myself so busy that it's taken until now.  So let me try to catch up on memorializing this time in my life.
So, why a voluntary quarantine so early?  We didn't have enough information about the disease at this point, so we decided to play it safe.  On Sunday, February 29, we went shopping and bought enough extra of our staples to get us through 3-4 weeks.  We figured it wouldn't hurt to by things that don't expire or can be frozen, just in case this got bad enough to slow the supply chain.  That was a smart move on our part.  A week later, all schools in our area had closed, including the university and store shelves were wiped.  People went crazy and bought hordes.  Some of them because they had large families, some of them out of fear and others out of greed.  Amazon started removing sellers who were price gouging.  Ebay banned the sale of all toilet paper, cleaning products and disinfectants.  The governor of Washington State suggested that people start social distancing.  This mean, not going out unless it was absolutely necessary and staying at least 6 ft away from other people at all times.
Meanwhile, our completely inept president was telling everyone that the Novel Coronavirus was a Democratic hoax to try and impeach him again.  He followed that up saying that we had 15 cases but they would "soon be gone".
 "Feb. 26: "And again, when you have 15 people, and the 15 within a couple of days is going to be down to close to zero, that's a pretty good job we've done." — Trump at a press conference.
Then, on Feb 28th:
"Now the Democrats are politicizing the coronavirus," Trump said. "They have no clue, they can't even count their votes in Iowa. This is their new hoax," Trump continued"
What I remember most about late February and early March, is that there was tons of confusion and many levels of belief on what this virus meant for us.  A lot of us were watching the numbers and the escalating spread across Europe and preparing ourselves.  Others were watching Fox News and the president and hearing things like above.
Washington state really took the lead and while I felt that Governor Inslee could have been a bit more aggressive, he eventually did what needed to be done and put us all on mandatory lockdown.  All non-essential businesses must close, people can work from home if it is possible.
The president, by late March, was forced to start making some changes in his tack as numbers skyrocketed in New York, the second city to be hit in the U.S.  By April 1, NY had almost 80,000 infections.  He finally declared a national emergency, he finally stopped holding rallies (instead he held daily press conferences where he made promises he never kept and lied).
By the first week in April, the presidents tone had finally changed to somber.
On the night of Mar 31, the President addressed a press conference at the White House, saying that the country would go through "a very tough two weeks."

Trump's statement came after the White House projected that the ongoing pandemic could claim as many as 100,000 to 240,000 lives in the United States, despite the current social-distancing measures in place
Below is a list of all of the restrictions and measures that are currently in place in several states in the U.S., though not all.  Many of the "red" (Republican) states are still reeling from the very sudden change in temperature from both their president and Fox News.  Most are still doing nothing.  In fact, today, Friday, April 3, Georgia just announced it will be opening up it's most popular beaches Friday night.
School closures, all students to do distance learning.
Graduations, Proms, etc. – canceled.
Self-distancing measures on the rise.
Tape on the floors at grocery stores and others to help distance shoppers (6ft) from each other.
Limited number of people inside stores, therefore, lineups outside the store doors.
Wear a mask when you leave your house.
Non-essential stores and businesses mandated closed.
Parks, trails, entire cities locked up.
Entire sports seasons cancelled.
Concerts, tours, festivals, entertainment events – cancelled.
Weddings, family celebrations, holiday gatherings – cancelled.
No masses, churches are closed.
No gatherings of 50 or more, then 20 or more, now 5 or more.
Don't socialize with anyone outside of your home.
Children's outdoor play parks are closed.
We are to distance from each other.
Shortage of masks, gowns, gloves for our front-line workers.
Shortage of ventilators for the critically ill.
Panic buying sets in and we have no toilet paper, no disinfecting supplies, no paper towel no
laundry soap, no hand sanitizer.
Shelves are bare.
Manufacturers, distilleries and other businesses switch their lines to help make visors, masks, hand sanitizer and PPE.
Government closes the border to all non-essential travel.
Stadiums and recreation facilities open up for the overflow of Covid-19 patients.
Press conferences daily from the President. Daily updates on new cases, recoveries, and deaths.
Government incentives to stay home.
Barely anyone on the roads.
People wearing masks and gloves outside.
Essential service workers are terrified to go to work.
Medical field workers are afraid to go home to their families.
Renters made a special class of people who don't have to pay rent or worry about eviction.
Life for us has been a combination of normal and bizarre.  It's very weird to go out in public.  When hiking was still being allowed, we realized you couldn't really stop for a bite afterward, you couldn't hit a restroom!  Things were closed.  People were covering their hands and opening doors with napkins or disinfectant wipes, mail gets wiped down when it arrives, groceries too.  It's a bizarre new world.
Because I have a tendency to catch every respiratory flu out there and often times end up with bronchitis or walking pneumonia and because Cohen has asthma and we were strongly advised by his doctor to quarantine him, we quarantined the 3 of us swiftly and early.  We got lucky that the University of Washington moved their classes to online just a day after we insisted Cohen come home.
We are ordering all of our groceries and needs online.  Many companies are waiving delivery fees.  Restaurants have been allowed to stay open to try and keep the economy moving.  We try to order food in once a week to help and to feel a little normal.  That normal quickly fades as you put on latex gloves to remove your food after wiping down all of the containers.  It's difficult to get grocery delivery slots.  Safeway is trying to hire 1000 drivers, people are having to choose between risking their health and having a job to provide.
The internet has gone crazy with ways to keep your children and/or yourself occupied!  TV shows, like the Daily Show, are being filmed and broadcast from celebrities homes.  Musicians are holding free online concerts, video chat services are going crazy, crafting companies are holding free online craft sessions, gyms are hosting online workouts – it seems  everyone is offering something special to do while you are social distancing at home.
Liem and I continue to work, thank God.  IVOXY is a tech company that supports IT infrastructure, so we are an essential business. Things are starting to slow down at work, but we are focusing on helping the other essential companies expand their ability for their employees to work from home.  I'm a little concerned as this drags on, what might happen with my job.  The company is small and we are working so hard to grow.
Liem, who's job is to run our little Web Development company, had been out of work for about 6 months prior to this whole Coronavirus thing.  Our main client filed chapter 11 and stiffed us for a large amount of money.  By the grace of God, Liem was offered a full time, full rate, 3 year contract with an essential service that has been pre-funded by the government.
So, while we both feel a little bit like "everybody is on vacation" while we are working, we 100% realize how fortunate we are to have jobs during this time and to have jobs that were always telecommuting.  Staying home all week isn't unusual for us but we do get cabin fever and it's going to be worse than ever now!
Despite living in Washington State where will will now have April showers, May showers and then Junuary, we put our summer furniture and heater out on the back deck so we can enjoy some outside time when the weather cooperates.
Mental health is definitely something I will be keeping an eye on.  I am already feeling the isolation effects. Yes, I live with two people, but they are two introverted people.  My extrovert is crying out!  I just keep reminding myself of how sweet all of that social is going to taste when this is over.  For now, my one and only job is to quarantine to keep my family AND OTHERS IN MY COMMUNITY safe.
The quarantine has had some silver linings.  My son is home and I love that.  I am incredibly sad for him and his college days being reshaped by this.  We've told him that he can take a year off if he wants to.  This is an unprecedented time and one year isn't going to make or break him.  Besides, until there is a vaccine or a very, very effective treatment, he and I essentially are trapped.
It's also brought back creativity for us.  We are painting "paint by number" pictures! Lie!m is designing patches.
I joined a group called Seamstresses Unite! and within one day was made a Team Lead for my city (which has over 50 seamstresses today) and then quickly advanced to helping with creating the website and process documents.  I've been spending a great deal of my free time helping with this grassroots mission to sew enough masks for all of our medical professionals.  You see, one of the things I didn't mention about this virus is that it spreads so fast, that it will very quickly overwhelm our hospitals.  Hospitals around the country are already reporting either being down to their last several days of Personal Protection Equipment or already using bandanas and scarves!!
This grassroots movement feels very similar to "Rosie the Riveter" during the World War II.  It has really helped me feel like I am helping in a time that we are all so helpless.