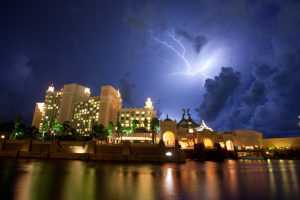 My family took our first trip to the Atlantis Resort in August of 2011, during Hurricane Irene! The trip was pleasant and both of the resorts we stayed in were terrific.
We booked our stay with Comfort Suites, which lies just outside the main gates for Atlantis, however, decided to also book a few nights at the Atlantis Resort itself for the nights of the hurricane, with the idea that the larger resort would be better equipped to handle any fallout from the hurricane.
You can read all of the gory details at my husband's blog, if you're interested.
Now, without further ado, the ProTips!
ProTip #1 – The water taxi to town from Paradise Island (or vice versa) is not that great of a bargain. It costs $1 less than a standard cab and has a half hour wait unless you hit it just right.
ProTip #2 – For cruise passengers visiting Nassau for the day…skip the cruises excursion package. You can book a room at Comfort Suites for the day that includes all access passes to Atlantis. The cruiselines typically sell their package for $120 per person. You can book a room for 4 for about $200. Even with a taxi to the hotel, you're saving a lot of money!
ProTip #3 – There are shuttles between the Atlantis Towers that are free of charge. Taking a shuttle to the Royal Towers saves you some walking to the water park.
ProTip #4 – The water in Nassau tastes smokey, like an ashtray. Add a lemon or lime to the water and it completely neutralizes the flavor making it completely drinkable…and saves you big money on bottled water when eating out.
ProTip #5 – Eating in Atlantis Resort. If the buffet lines start to really stack up, buddy up with another family in line. You'll be seated faster if you have a large group. The larger tables often are left empty while the smaller tables are full of groups of 2-4.
ProTip #6 – Eating in Atlantis Waterpark. Find the snack shacks (Like Shark Bites) that offer the family lunch deals. The burgers are 1/2 lb burgers and are easily shared. Lunch for 2 can feed a family of 4!
ProTip #7 – Most restaurants add a 15% tip to your bill. Be aware!
Some side notes:
Government house offers free tea and pastries on Fridays.
Super Value Grocery Store at Cable Beach is a great place to stop and stock up on water before you are dropped off at your hotel. Water is expensive in the park! It cost about 1/3 the price at the grocery store.
Bring a refrigerated soft cooler to tote water and light snacks into the park.
Negotiate your cab fare before stepping into the cab.
The Tourist News has a list of affordable restaurants and coupons.
The Pirate Museum is worth the time and money, especially if you have kids, but even without.