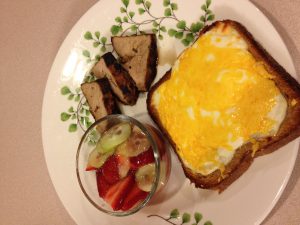 These particular posts may not be of any value to anyone but me, but this is a way I can document our successful recipes while playing Chopped at dinner time.
The mystery basket this time around included:
Pork Loin
Rosemary
String cheese
Pineapple juice
A lot of ideas ran through my head but to me, the pineapple juice and rosemary didn't sing together (at least not for me).  I prefer my rosemary in a beefy, savory flavor palette.  I decided on a seasoned pork loin in a beefy rosemary reduction and texas toast (to use the cheese).  I figured I'd put a little of the pineapple juice in my reduction and go with it.
First I seasoned the pork with salt, pepper, garlic powder and onion powder.  I added it to a hot pan with a little oil and cooked it through.  Once it was finished, I moved it to a tented plate.  Next, I added some fresh chopped garlic to the same pan along with a little beef broth.  I scraped up the brown bits on the bottom of the pan and then added the remainder of the can of broth, a little red wine (maybe 1/3 cup?), some dry rosemary as well as a few fresh sprigs and about a tablespoon of Worcestershire.  I added a splash of pineapple juice, being careful not to over sweeten the sauce.  I let that reduce down by about half.  Upon tasting the sauce, I knew it needed more salt and beef so i added a teaspoon of beef bullion paste.  I also added the pork drippings from the tented plate.  Perfect.
Moving to the Texas toast, I buttered some fresh made bread and sprinkled it lightly with garlic salt.  Slicing the mozzarella stick, I added the mozzarella to the bread and topped with grated cheddar.  This was broiled until the cheese was melted and beginning to brown.
To add some color to the plate, I decided to slice some strawberries.  It then occurred to me that reducing the pineapple juice and adding a little cornstarch could make a lovely glazed fruit salad.  I didn't want the richness of the reduction to fight with the strawberry salad, so I thought I'd see what happened if I added some cucumber…nice, light and fresh.  I tried the pineapple sauce with the cucumber and it worked!  In the end, we decided that the strawberry cucumber salad still needed something.  I'm not sure what.  Salt? Vinegar?  I'll have to experiment.  It needs something to pop the cucumber a little bit more.
My final dish: Pork Loin in a Rosemary and Burgundy Sauce, Garlic and 2 Cheese Texas Toast and a Strawberry Cucumber Salad with Pineapple Glaze
Another successful and fun evening of playing with food!  We've got another recipe to add to our rotation.